When our working commitments changed, we decided it was time to get a second malamute. We found a litter that was from lines we liked, known for good temperaments, an email and phone call or 2 later we were off to meet the breeders and their dogs. As soon as we met Hayley & Jason and the Wolfraven dogs we knew we wanted a pup from them ! They agreed we could go on their list for the litter. Hayley & Jason kept us up to date with news and were very welcoming whenever we visited ( and still are, they haven't managed to get rid of us yet ! ) We can't thank Hayley & Jason enough, for allowing us to home Seren, and their continued friendship.
Seren was one of a litter of 3, the other 2 being boys, that she bossed about ! She was definately the most forward in the litter ! When she came home she was a little whirlwind into everything and kept us on our toes. Kelt enjoyed having a puppy around and they have become firm friends ( not that Kelt will admit it ! )
She is a vocal girl and there is no missing us when we arrive somewhere !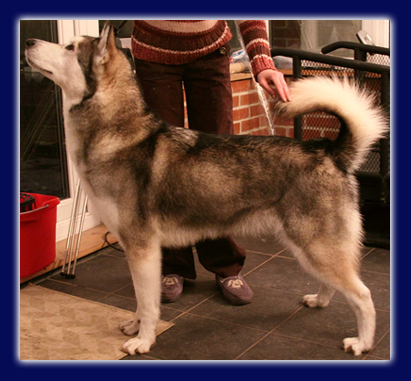 Seren has proved to be a joy to own, she is very eager to learn and will try anything !
Seren has been shown and did very well when young ( often inspite of my handling ! ) placing often in very large classes and getting a best puppy. Now she has matured, she will soon return to the ring. She ran in several rallies with Jason & her brother Blaze, and she earned her WPD ( working pack dog ) title in 2009 (more about that on the working page) She has proved to be an all round girl !
We are very proud of Seren and what she has achieved and I'm sure more is yet to come !