There are many activities you and a malamute can do together ! On this page I'll give some ideas, starting with the more breed specific ones, but if a dog can take part in it, a malamute can ( but it may take abit more patience & sense of humour than some other breeds ! ) Taking part in some activity will increase the bond with your dog and provide physical & mental exercise, whether you want to compete or do it just for fun! I am not an expert on these things, nor do I claim to be ! So many thanks to people that helped me with this page.
Mushing
Probably the first activity that springs to mind is mushing !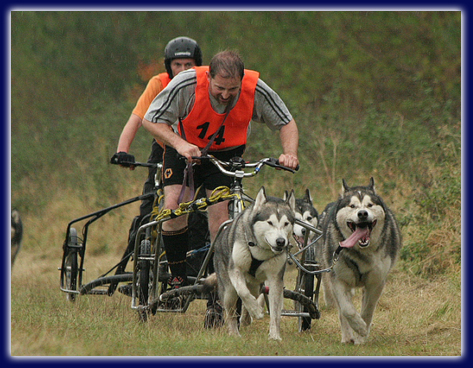 Seren & her brother Blaze ( with Jason Henworth on the rig ) Photo by Kirsty Terry

Having your dogs pull you on a Scooter,3 wheeled rig or sled if we are lucky enough to get snow ! This is an activity most Malamutes really enjoy ! You can take part with any number of mals, from 1 to 10 ( if your brave enough ! ) but most don't go above 4 in this country.
Seren's first rally was a 2 day event, the first day she stood at the start nicely waiting, The second day at the start she got very excited & couldn't wait to get started !
If you think you'd like to give this a go, Go to a rally to watch and talk to people, most will be happy to talk to you provded they aren't about to head to the start ! You'll also get to see the different breeds of sledogs and talk to their owners, who will be happy to tell you all about the breed they own . Some have more than one breed and will be able to tell you the differences between them. If you want to see sledogs at their most excited , go and watch at the start line ! It really is quite a sight seeing the enthusiasm !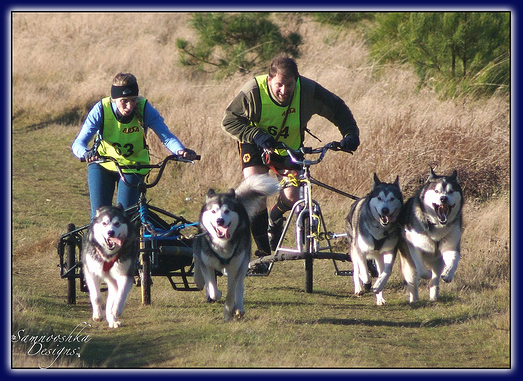 Seren & Blaze ( right) with Jason Henworth. Photo by Samnooshka designs
If you think this is something you'd like to get involved in, Below is a link to an article about how to get started , it is aimed at competeing, but is helpful even if you just want to go round your local woods for fun.

Alot of owners run their Malamutes with bikes for exercise, whether they take part in mushing or not, This is a great form of exercise for them ! There are a few different attachments you can use to do this safely, there are links to suppliers on the links page. Most dogs take to this with a little practice, the most important things to remember is to NOT do this too young and build up the speed & distance over time.
Back Packing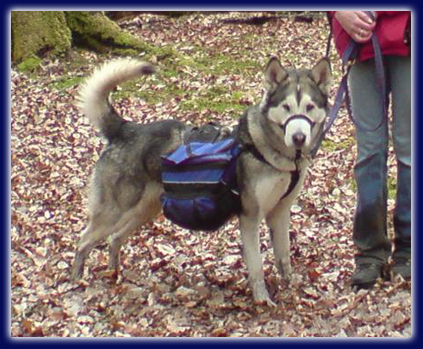 Photo by Michelle Anderson

Malamutes love having a job to do and backpacking is a great way of giving them a job ! Your Malamute can do this on a normal walk, a long distance walk or even carry his share of equipment camping.
Malamutes shouldn't carry any real weight until 18 months old, you can begin trainning them from about 12 months onwards.
First you need to get a good backpack that fits your dog, There are many on the market, decide what you want from a pack and shop around. Some come with removable saddlebags which can be handy to remove on rest stops & when negotiating obstacles like styles. I use a ruffwear palisades pack, which suits Seren fine, but it doesn't suit all Malamutes.
Once you have your pack you can start getting your dog used to wearing it, do this with the pack empty. Take your time with this and don't try adding weight until the dog is happy to wear it empty. Kelt & Seren had no problem with theirs and didn't seem to even notice they had them on ! Once they are used to them you can start slowly adding weight. Whiule wearing the backpack, especially with weight, the dog should be walking the majority of the time on a natural surface ( such as woodland trails etc ) as tarmac & concrete isn't good for the joints due to impact. Start off with something bulky but soft, like a towel, to get them used to the size of a full pack ( watch the backs of your knees, Seren seems to love walking into mine while wearing her pack ! ) and make sure to keep the weight even on both sides.Once they are used to this you can start slowly adding weight, Make sure you don't use anything that can dig into the dog while walking, and keep the weight even. Examples of what you can use are water bladders, bags of rice, diving weights, your lunch, basically anything with weight that won't injure the dog. The weight needs to be built up slowly, as does the distance you walk with them carrying it. The dog should end up carrying a maximum of 1/3 of their body weight. Like all things, use common sense, if the dog appears to be struggling in any way reduce the weight and distance again and increase more slowly, this should be a fun thing to do ! Don't make it a chore for you or the dog ! One important thing to remember to take with you is water for your dog and make frequent stops and offer a drink, they are working and will probably need more water than normal. Also it is important not to do this on warm days, if you are warm imagine what your Malamute feels like in that coat ! Heat stroke is a very real danger !
Seren completed her WPD ( working pack dog ) title in 2009 by carrying 30% of her body weight on 4 walks of over 10 miles. We did this as part of a group, many thanks to Adam Johnson, Louise Curzons & Mark & Ally Smith for sorting out the routes and acting as guides for those of us who are navigationally challenged and for sorting out our paper work, And Michelle Anderson for acting as our witness.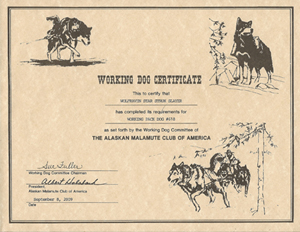 Weightpulling
As I have absolutely no experience of weight pulling, So I have asked a friend to write a piece to go here, watch this space !
Cani Cross
If you enjoy running, why not do it with your dog ? Cani cross ( cross country running with dogs ) is a growing sport. As Malamutes love to run and love to pull in harness, this is a great sport to do with them!
I'll leave it to the experts to fully explain this here Cani-cross
Other Activities
As I mentioned at the beginning, if you can do it with a dog, you can do it with a malamute ! There are malamutes that take part in agility & obedience and do very, very well ! While they might not be the obvious choice of breed for these things, If you like a challenge it can be fun ! If you want to take part in these activites you need to find a good reward based trainer in your area that runs the appropriate classes. Go along and watch the class to see if the dogs & handlers are enjoying it ! Make sure the trainer has patience and a sense of humor as Malamutes require both when training ! Most will not start training for agility until the dog is 18 months old, as it involves impact which is not good for growing bones & joints. Some trainers run pre agility courses to get a young dog started without the risk of damage. If agility is something you want to do and your Mal is too young to start yet, talk to trainers and they may run such a class or can give you advice on things you can work on that will help you later.
If anyone can think of an activity I have forgotten to mention, let me know !